Cyber Security
Awareness Training
Acclaim IT offer next-gen Cyber Security Awareness Training, empowering your team to stay ahead of cyber threats.
Empower Your Employees
Give your team the tools they need to become cyber-aware, while building a powerful human firewall.
Significantly Reduce Cyber Incidents
Using our educational platform, your business can significantly decrease the likelihood of becoming a cyber target.
Ensure Ongoing Security Protection
Safeguard your company data and boost your long-term cyber security stance with our all-in-one security platform.
Minimising human error is a vital part of your security plan
Almost every cyber attack begins with human error. It's often as simple as opening the wrong email or downloading a file, which leaves your organisation open to attack. Your team are your number one line of defence. That's why educating them ro mitigate risks needs to be your number one cyber security priority.
Your strongest defence against online threats is your team
Without proper training and awareness, it's likely that your staff will accidentally leave the door open for threats. With cyber criminals becoming more sophisticated in their approach, it's crucial that your team know how to identify and manage online risks.
Our training program gives your employees a strong level of knowledge that equips them with the tools they need to keep your company data secure. It will not only boost your overall cyber resilience, but build a human firewall, capable of denying access to incoming risks.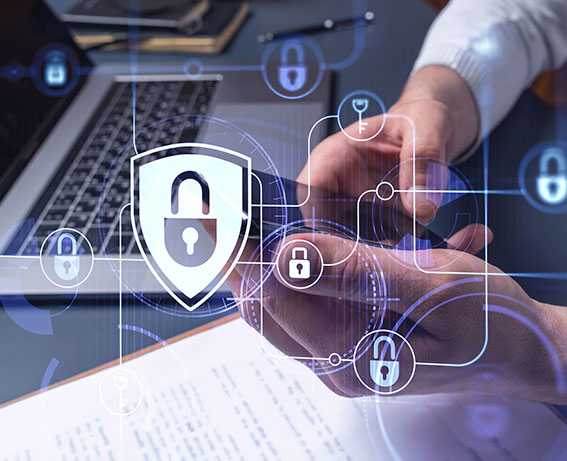 Substantially reduced risks today. Long-term tools and support to stay ahead of cyber attacks.
Educating your staff is just the beginning. That's why we'll also give yo access to highly advanced simulations, testing and reporting, giving you a 360 degree view into your frontline security posture.
With detailed information on user behaviour, real-time reporting and regular phishing attempts, your business will have everything needed to stop incoming threats in their tracks.
Our Cyber Security Awareness
Training Includes:

Tailored Remote Training Platform
Customised virtual training creates a powerhouse of security awareness in your organisation.

End-User Testing
Individual end-user testing to address vulnerabilities within your organisation.

Behavioural Risk Score
AI-Driven insights to assess each employee's unique behavioural risk level.

Fully Automated Phishing Simulations
Test your team's awareness of incoming threats with regular automated phishing simulations.

Creating a Human Firewall
Create a human firewall as a potent first line of defence against cyber threats.

Next-Gen Threat Intelligence
Advanced threat hunting and intelligence allows your business to stay ahead of incoming threats.

New Employee Cyber Onboarding
Every new hire is given the skills needed to mitigate cyber risk from day one.

Detailed Reporting
Gain in-depth insights into your security landscape, allowing you to mitigate threats rapidly.

Unsure of your organisation's current level of User Awareness?
Register for your Security Assessment today and get started on creating a human firewall for your business.
Receive a comprehensive review of your employee risk level, and a cybersecurity risk assessment with industry compliance analysis.
FAQs - Cyber Security Awareness Training
Why is User Awareness Training so important?
More than 90% of cyber attacks start from within your own business. Someone may open an email that they don't identify as a phishing attempt, or download a file while working that contains malicious software. It can happen easily, because most employees just don't have the skills to recognise an incoming threat.
Employee User Awareness Training gives your staff the cyber security skills they need, and the awareness to mitigate potential attacks.
Our program starts with getting current staff up to date, and ensuring that new staff have training available from day one. With regular phishing simulations and threat testing, you can feel assured that your entire team is able to identify and avoid common threats.
What is Essential 8 compliance?
Essential 8 is an array of guidelines, developed by the ACSC, to counter cyber attacks that threaten Australian businesses. These strategies cover a variety of aspects related to online security in order for your business to stay secure from digital threats.
When Essential 8 Compliance has been achieved it means that you have met all requirements set out by this initiative. The criteria will depend on the size and type of company you run and further protocols may be necessary depending on what industry or data your business handles.
Compliance comes in three maturity levels: Zero to Three. Level Zero is the standard for organisations that have not yet met any compliance, while Level Three goes above and beyond basic requirements.
Currently, most businesses operating in Australia are required to obtain at least Maturity Level One. Talk to us today about how we can assist you with achieving this.
What are managed cyber security services?
To guarantee your business has the most up-to-date cyber security measures in place, talk to us about how we can provide ongoing support as your managed cyber security provider.
Our services are customised to your business needs and delivered for a simple monthly fee, providing you with an easy to manage cyber security solution.
As part of this process we will provide a detailed assessment of what is needed and where improvements need to be made – giving you complete clarity on your current network vulnerabilities before we get started.
What does your Security Assessment include?
Our Security Assessment provides a comprehensive overview of your IT infrastructure and any weaknesses or vulnerabilities that may be present. Using this data, we can pinpoint which areas require improvement, with the goal of achieving Essential 8 compliance.
We also provide ongoing managed cyber security plans that will ensure your business has reliable security protocols in place to protect your business from ever-evolving cyber threats.
Register for a Security Assessment today with a Cyber Security Expert in Melbourne